Looking to upgrade your existing toy collection to something more realistic? 
Whether with a partner or on your own, you want to be able to fulfill your fantasies and get the most pleasure.
That is why using dildos that simulate ejaculation can help, to give you a real experience, and add to your enjoyment. So what are the best squirting dildos? Here are ten of the best; which one do you want to try?
My top selection of squirting dildos that simulate ejaculation (2020 Data)
1. Doc Johnson Bust It Ejaculating Realistic Dildo with Vac-U-Lock 7 Inch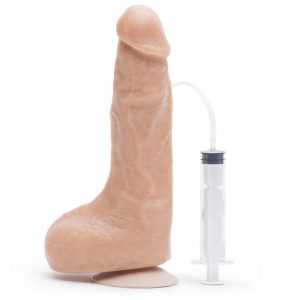 If you like the sensation when a partner cums, then this a realistic dildo, with an added bonus to enjoy.
Alongside the normal features of a dildo, it comes with a 'Nut Butter' dispenser that is easy to use, helping to mimic ejaculation for a fully complete and explosive finale, whether using it with a partner or alone.
This realistic cock can squirt on demand, so for the experience of shared pleasure, or to experience a pearl necklace all by yourself, then this could be the one for you. Just squeeze at the desired time. You can use it hands-free too, with its strong and powerful suction base. 
Pros and cons:
Suction base to use anywhere and in a variety of positions

Dildo includes a storage bag and some concentrated 'Nut Butter' so you can create the homemade ejaculate

Girthy shaft and some bulbous balls, for both internal and external stimulation

Realistic pleasure, and can be used in a number of ways
2. 9.4 Inch TPE Silicone Tools Realistic Suction Cup Dildo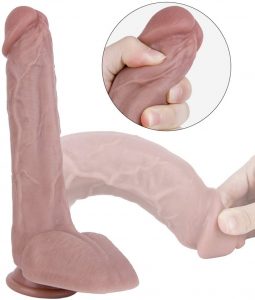 If you are looking for one of the most satisfying and distinctive squirting dildos out there, then look no further than this one.
This realistic-looking product is made from liquid silicone which is food-grade, showing you how hygienic it is, as well as being body safe and odorless.
It is designed with pleasure in mind, because the shape is crafted to make for an amazing experience. The realistic texture of the dildo also helps to create a natural and pleasurable feel.
Whenever you're ready, you can press the container to release the cum, making for a more satisfying play experience.
Pros and cons:
Made from a soft and hypoallergenic material, that is also non-toxic

Strong jet force ejaculate when you press the container

Easy to use ejaculation bag, and easy to fill up to allow for wave after wave of ejaculation stimulation

Large length dildo, which may not be to everyone's liking
3. Jinjinlu 10.23 inch Simulation Dick with Strong Suction Cup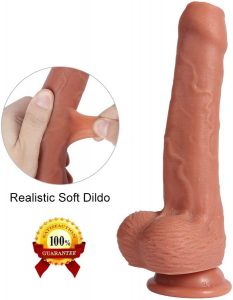 This dildo is designed to bring you unprecedented pleasure and fun. The dildo itself is made from a soft, high quality, silicone material that is not only safe to use internally, but is flexible, and has a soft and silky skin-like feel.
It is a lengthy dildo, at 10.2 inches long, with a 2-inch girth, so a really good size. It has a lot of lifelike features and textures, with a flexible body that is easy to insert and play with, and makes the feeling pretty wonderful.
Fitted with a powerful suction cup, the dildo sticks to any smooth surface, making it good for play in the bath or shower, as well as trying different positions. The bulging veins and balls are designed with pleasure in mind.
Pros and cons:
Designed to create a natural feel for pleasure

Can be used hands-free

Completely waterproof design

Soft material, flexible, and realistic skin-like feel

Long dildo that is pretty girthy at 2-inches
4. V-I-Brating Realistic Ejaculating Dildo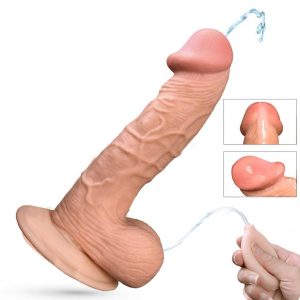 This realistic-looking dildo is eight inches in size, with the ability to ejaculate, to improve your pleasure and enhance your fantasies. 
The dildo has a pronounced head, as well as realistic balls, and a long and thick shaft. The balls at the base help with external stimulation, and the squirting features are easy to use, enhancing your play. 
The dildo has a very realistic look and feel, made from a soft material that feels very like skin. The material is also non-toxic, body safe, odorless, and smooth.
Pros and cons:
Strong suction cup to enable hands-free play, as well as use in a number of positions

Soft and realistic feel, for added pleasure

Easy to use ejaculate container for taking pleasure to the next level

Realistic length and girth, making it a good option for beginners
5. LFLING Lifelike Huge Realistic Dildo Ejaculating Dildo With Balls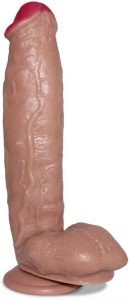 This dildo is made from high-quality materials, helping to make it feel safe, comfortable, flexible, and durable, for all that you will want to put it through.
It has a very realistic look and feel, and is available in a variety of colors. If you are a beginner to using a dildo, then this is the ideal size, girth, and shape to help you to enjoy trying out something new.
With bulging balls and veins, it is designed with your pleasure in mind. Add that in with a hands-free suction cup, you can use it in a place and position that will help to really get you off. 
Pros and cons:
Discreet delivery, to honor your privacy

Available in different skin tones

Perfect size for beginners looking to try something new

Easy to use ejaculating features

Suction cup base for ease of use and positions
6. AMZ Standard – Large Ejaculating Dildo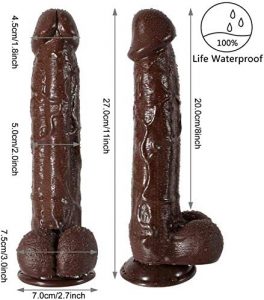 This large brown dildo is made from a durable and smooth material, helping it to feel really lifelike. It is compatible with most harnesses, if that is something that you would want to try with a partner.
The dildo is designed for pleasure, and is extra-long in size, as well as girth. The design of the dildo is ergonomic, to help to stimulate you in all of the right places. With a more pointed head, it makes it easy to use inside you.
The double-density of the dildo means that there is internal hardness to the toy, but the outside is still soft and flexible, to help with a variety of positions. Easy to use alone, or with a partner, you could be heading to O-Town with this quickly and easily. 
Pros and cons:
Long shaft length and girth, so not ideal for beginners

Body safe and non-toxic material

Very realistic size, shape, and design
7. Clitoral Sucking Vibrator With 7 Settings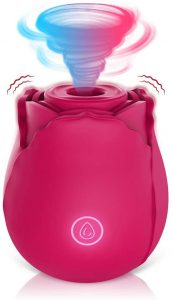 Note: Whilst this is not a squirting toy, it's one that repeatedly occurring during my research as the sort of toy prone to encourage squirting based on its movements. This has been included as I understand some may be searching more for toys that can make you squirt alongside those those that mimic ejaculation. 
Subtle, quiet, and discreet, you can play with this toy and let your imagination run wild! Designed ergonomically, with comfort in mind, it can be used alone or with a partner. The silicone that it is made from is skin-friendly and non-toxic, as well as being shaped in an easy-to-hold shape.
It can get close to the clit for an amazing sensation that will have you ready to change the sheets in no time.
Using a flexible tongue piece as the main form of stimulation, it can also be used independently for some amazing external stimulation. There are seven modes or settings for the vibrations, so you can discover which setting is going to be right for you. For more on these types of smaller, silent toys you can check out our guide to the best silent vibrators for discreet use. 
Pros and cons:
Focusing on the clit, with no internal penetration

Discreet and quiet vibrator, with a range of settings to find which works for you

Can be used alongside other dildos for maximum pleasure
8. KHEOSLNX Sucker Realistic Dildo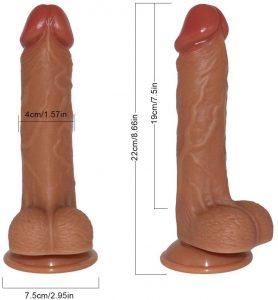 This is a large dildo for women that works so well on your own, you'll think that you're actually riding a man. With a suction cup, you can place it on any smooth surface, which is great for trying out some new positions and maximizing your pleasure.
The dildo is made from medical-grade silicone, making it completely bodysafe. The material itself is firm but flexible, helping to stimulate your g-spot, just as you'd like it. It is a good choice if you're pretty adventurous in the bedroom, as it can withstand the most rigorous conditions.
Pros and cons:
Perfect choice for experienced and more adventurous users

Realistic design and texture, designed for pleasure

Affordable price point

Large in size and girth, so definitely a better choice for experienced dildo users
9. 8 Inch – Ejaculating Dildo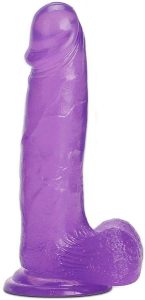 For something fun, why not try a purple dildo? This one comes with a powerful suction cup, to help with different positions and hands-free play.
The dildo is a good choice for beginners, as it has a more pointed head, making it easy to ride or back onto. The dildo itself is soft and durable, yet still flexible and firm enough to give you the ride of your life.
With some realistic textures, it feels just like you're experiencing real D. After use, it is simple and straightforward to clean with soap and water. The material is non-toxic too.
Pros and cons:
Great option for beginners due to a more pointed head

Easy to use and easy to clean

Realistic textures and features

Good size for the majority of users
10. 7 Inch – Squirting Set Tool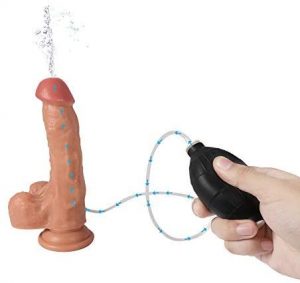 This dildo is a good size, especially for beginners. The girth is a good size too, which again, makes it a good choice for someone new to dildos or is just warming up. The dildo itself is flexible, which helps when trying out a variety of positions, whether you're with a partner or alone.
Use with the suction cup, and you can have some hands-free pleasure, so you can put your hands to use elsewhere! With a protruding head and bulging vein details, it has a realistic look and feel.
For something extra to help your stimulation, you can incorporate the easy to use ejaculation container to squeeze out some extra lubrication as and when you need it.
Pros and cons:
Good choice for beginners due to size and girth

Not a good size for someone wanting something more extreme or to be stretched

Easy to use ejaculation container

Realistic and simple design, with pleasure in mind