Riding a dildo is like learning to ride a bike; once you have the skills, you will have them for life!
Having a dildo and knowing how to use it properly to your orgasmic advantage are two different things. It is worth learning how to give yourself mind-blowing masturbation so that when you take control of your partner's dildo, strap-on or real-life penis, you know exactly where and what you want.
But when it comes to riding, what are the different ways to ride a dildo? And how can it improve both your and your lover's sex life?
Find out answers to both these questions and more in this how-to ride a dildo guide; you will leave this article more knowledgeable and with new tricks up your sleeve.
Get in The Mood 
Before you get on top of that dildo and start giddying up, you might want to set a little ambience. Getting your surroundings into an erotic state of mind will help you be transported into that sexual, horny mindset that will increase the intensity of all your senses and, ultimately, your orgasm. There are a few ways you can set the mood before a long night of riding:
Put On Some Candles – Scented candles or masturbating under candlelight will create a fantasy for your senses and give you the chance to relax and be one with your body. Picking a scent that will whisk you away and out of your head is exactly what you want and putting on some candles are perfect for this. 
Check out our fave mood-maker candles →
Stick Some Music On – It sounds kind of cheesy, we know. Just like how they do in the movies, right? But actually, it can improve your confidence in the bedroom, and picking romantic, uplifting, self-empowering music in the background will only play into your emotions and make you move in all directions!
Change the Lighting – The last thing you want is to masturbate in bright white lighting. You're not in a hospital or dentist! So change the lighting if you can, either by switching to your warmer-toned bedside lamp to add a little comfort and warmth to the bedroom. Or, if you are feeling fancy, invest in a colour-changing lightbulb and with a press of a button, you can change the whole mood from seductive red to playful pink; however, you are feeling, change the lighting to match it! 
Just Like Any Activity – You Need to Warm Up! 
Just like an athlete needs to stretch before a run or a jump, you need to get your vagina or anus warmed up before you start sticking things inside of it! 
Gently playing with yourself or getting your lover to play with you to get you all worked up and horny will get those natural lubricants flowing, making it much easier to ride that dildo to within an inch of its life. 
You can get into the zone with either a hand, tongue or other stimulating toys; whatever will get those juices flowing and heart rates rising is precisely what you want before your riding session!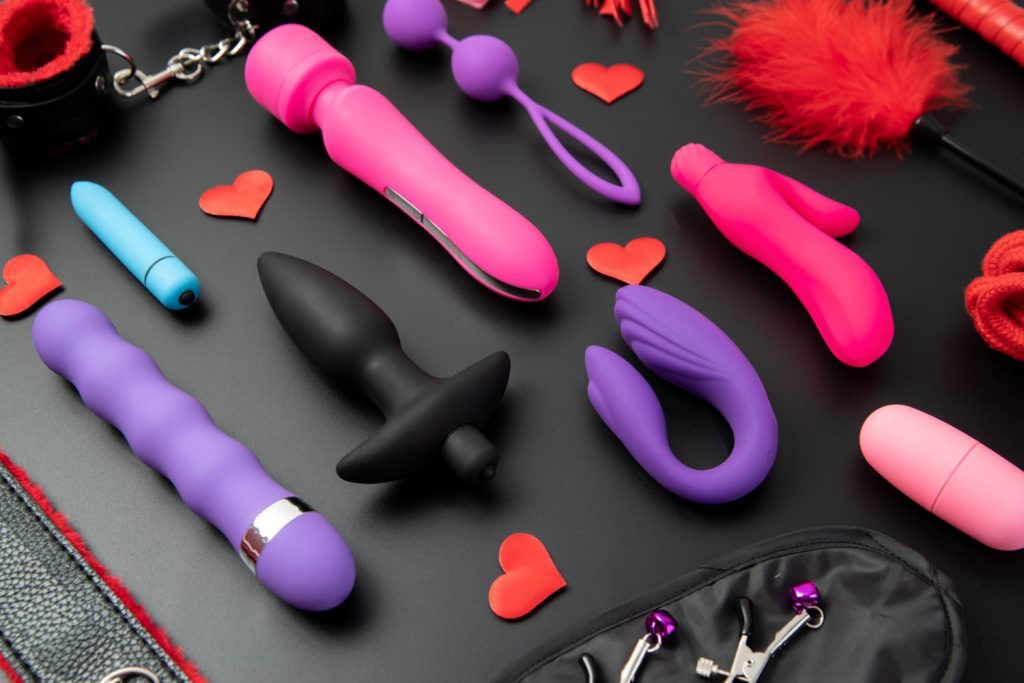 How To Ride a Dildo – Top Five Different Techniques 
Here are our top five different techniques that you can use to ride your dildo to oblivion and get that orgasm you want and most certainly deserve! 
1. Get Filled Up 
Sometimes when it comes to "riding" your dildo, you don't even really need to move at all. Having that full sensation inside of you, gently rubbing on your G-spot as you play with your clitoris or anus, is enough for some to explode and lose their orgasmic minds completely. 
So try next time, just inserting the dildo inside of you and then leaving it in there as you do other tempting things to yourself or let your lover tease you, and see how quickly you get to busting point!
2. Stick It Down & Ride! 
Many dildos come with the suction-cup design on the base, allowing you to stick it down onto any surface you want to ride on and bounce up and down. The choices and options are endless, from the kitchen to the shower to the bedroom wall. 
These suction-cup designs let you pleasure yourself happily all night long and can also offer the opportunity to get your lover involved. You can involve them either by making them watch you as you make yourself orgasm or have access to other holes in your body from your anus to your mouth, giving you that almost threesome feeling without the other body getting in the way!
3. Double Penetration Time! 
Whether you have a lover who is desperate to get involved and pleasure you with a dildo and be deep inside you themselves, or you have a butt plug and a monster dildo that are both just looking at you, screaming to be inside you at the same time. 
Double penetration with a dildo can be easily accessible to anyone, whether that be on your own or with your lover(s). Especially when it comes to riding your dildo, whilst you have either a butt plug or a real penis inside you, it can really get your eyes rolling to the back of your head! 
4. You Spin My Dildo Right Round! 
Just like a record, you can get dildos called "juicers" designed so that as you ride, they can be increasingly turned so that they flip around and around inside of you just like a juicer would as it gets some liquid from an orange! These juicers are a great addition to your dildo riding experience because you don't have to do all the work. 
With this kind of dildo inside of you, it can be turning and twisting inside you, rubbing against your G-spot and all of your vaginal or anal walls, and with that kind of sensation, you will never want to stop wriggling! 
5. Give Smaller Dildos a Chance! 
You don't always have to buy the biggest, longest, girthiest dildo on the market to achieve an orgasm. But did you know that, actually, most of the vagina nerve endings exist in the first third of the vaginal entrance? So, going for a smaller dildo that you don't have to go full penetration on might benefit you! 
Just because you can ride on seven inches or more doesn't mean you need to. To achieve your incredible orgasm, a short, sharp, back-and-forth gentle motion on the first third of your vaginal entrance can also give you a ride to remember and will allow you to experience that glorious orgasm. It also means you won't be walking funny afterwards!
Up for a riding challenge? Try these...