Whether you're in a couple or not, it's clear that some topics in the bedroom are still taboo, even in 2020. Pegging, however, seems to be one of those things that is actually becoming more accepted.
With more and more couples willing to experiment in the bedroom, pegging has certainly risen in popularity in recent years. But, if you're new to this side of the things, then how do you know where to start? Like anal for any beginner, it's best to take things slowly, and this is exactly the same with pegging.
Experimenting in a pegging session with a partner that you trust and is willing to respect your boundaries is paramount. Whether you're opting for vaginal intercourse or setting out to progress in your anal endeavours, experimenting with new toys should be a slow and safe process, so let's take a look at the 10 best dildos and strap-ons that couples can experiment with in the wonderful world of pegging.
Do all dildos that are used for pegging come with a strap-on harness?
Pegging is commonly split between strap-on and strapless dildos. The more common form is the strap-on harness, which I'd certainly recommend for beginners purely based on the amount of control the giver has over pressure and overall intensity.
If, however, you're a pegging-giver experienced with dildos and would be willing to experiment with a strapless option, then this can be an incredible experience for a couple. In this guide I've included some strapless options for those curios couples looking to take their pegging adventures to the next level.
Can you buy a dildo and then use it with a strap-on harness?
Whether it's your favourite dildo that you want to use on your partner, or you simply already have a harness and want to purchase a certain style or type of dildo, it's great to have the choice of the dildos you can use (whether you're the partner wearing the strap-on harness, or the partner receiving).
Many harnesses provide very easy access for implementing the dildo of your choice via an O-ring, which is a part of the harness that is commonly adjustable and can often be swapped out to equip the dildo of your choice. So yes, if you see a harness you like but the dildo doesn't tickle your fancy, you can always swap it out with your go-to choice at a later date.
I'll cover more commonly asked questions later in this guide, but for now let's take a look at the 10 best dildos for pegging, and recommended strap-on harnesses that are suited for multiple styles and types of additions!
What is a pony or bulb in relation to strapless pegging dildos?
A pony or 'bulb' is simply the part of the strapless dildo that is inserted into the vagina (or wherever else you may opt for). I originally started by calling it a butt plug attachment, before quickly realising that wasn't the case!
My Top Ten Strap-On Dildos & Sets For Pegging (Made for 2020)
1. King Cock 9 Inch Dildo & Strap-On Kit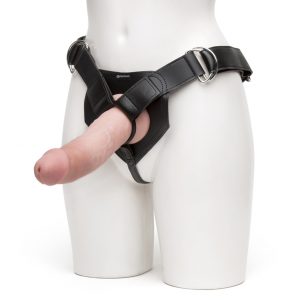 My first choice in this guide has been purely for biased reasons… it's one that me and my partner I run this blog with have been experimenting with for quite a while, and simply put, we both love it!
The 9 inches and thick girth can certainly seem intimidating for beginners, but if you're looking either for a challenge or for a strap-on set that you can use to break-in your partner gently (and have something to work towards), then it's certainly the choice if you want something that has a (hefty) reward as part of the appeal.
What I also like it is that King Cock haven't just focused on what proves to be an incredibly realistic dildo. The harness is very secure, not only in keeping the oh-so realistic implement in place, but the secure straps and buckles ensure the receiver stays safe, and the giver has maximum control over just how the 9 inches are provided. The dildo also has a suction base, so that there's no excuse for not practicing when your partner isn't around!
Product Breakdown:
25-52 inch waist adjustability

The complete set (as is standard) comes equipped with lubricant, cleaning agents and the dildo/harness combination

The kit also comes with O-rings enabling other dildos to be easily added and replaced on the harness
Incredibly realistic and offers a challenge

Very well made and safe for couples
9 inches of realistic penis is always going to be intimidating for some couples
Those totally new to anal may want to opt for a smaller sizing prior to tackling the 9 inches of this King Cock dildo
Recommended For:
Couples wanting to invest in a highly-rated, safe and realistic dildo that also comes with a complete set for everything a duo (or however many in your party) may need for a pegging toy that provides a challenge
2. Doc Johnson – Realistic Dildo x3 & Strap-On Set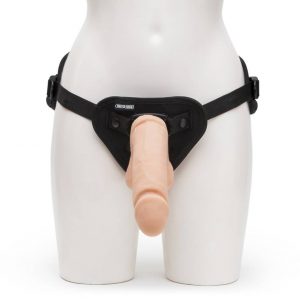 Carrying on with the theme of taking on a challenge, many readers landing on this guide may already be familiar with the incredibly realistic look and (often monstrous) feel of the Doc Johnson range.
As it's always simpler to opt for a dildo and strap-on set (making it especially easier if you don't know what you're looking for), I thought adding another to this guide couldn't be a bad thing!
So, you might be looking at the price and thinking it's a little steep compared to some of the others in this list. But, you're actually getting 3 lifelike dildos in this set, all with varying sizes and you also get everything else that both beginners and advanced users will need to get going.
The dildos in the set range between 10, 8 and 6 inches, so if you're looking to build up to a larger size then much like a beginners plug starter set, it's always best to start with a smaller size and gradually progress onto larger sizes as you (or your partner) becomes more comfortable (especially if you're anally pegging and your partner is new to that side of experimenting!).
Product Breakdown:
Comes with 3 realistic dildos from 10 inches down to 6, which are all ultra-realistic as is typical of the Doc Johnson range

Harness which extends up to 69 inches

Comes with varying O-rings, lubricants, cleaning agents and powder for keeping the toys fresh

Also comes with two plugs for the pegging-giver to experiment with – literally everything you could ask for in this set!
Doc Johnson have thought of everything, for both the giver and the receiver

It's a complete set that doesn't cost the earth
Might be a little expensive for couples or people just looking to experiment a few times, and otherwise wouldn't get their money's worth
Recommended For:
Couples looking to invest in a kit that will literally offer everything they need to both get started and progress when pegging.
3. 'Strap On Me' Bendable Strapless Dildo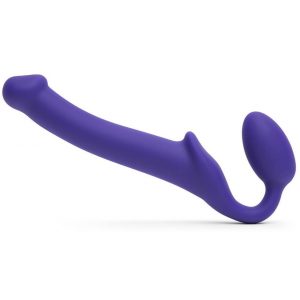 I've mentioned strapless dildos at the start of this guide, so let's have a look at one now. After rigorous testing with me and my other half, this one comes heartily recommended, The girth isn't too intimidating (especially compared to some of the other more lifelike dildos) and the 'pony' (essentially the plug that keeps it in place with the wearer) is small enough to slip in easily, but still certainly satisfying for the wearer.
The spot-on size and double penetration aspect makes this ideal for beginner couples who are both completely new to pegging, but don't want what many consider to be the faff of actually having to deal with the strap.
The silicone construct also means that it's very easy to shift into where you need to be, if you catch my drift… There is enough 'give' and it can be bent into place. Absolutely perfect!
Product Breakdown:
6 inches of insertable length for the receiver, with the 'pony' plug offering 4 inches of pleasure for the wearer

Comes with discreet drawstring bag (as is small enough for draw storage)
Silicone material is very easy to bend and maintain

Both sides of the insertable length are perfect for beginners
Insertable length might not be enough for experienced users

Takes a little getting used to for the wearer if you're a couple with experience of just the standard strap-on dildos
Recommended For:
Beginner couples not interested in the standard strap-on dildo style of pegging
4. Perfect Fit Zoro Strap-On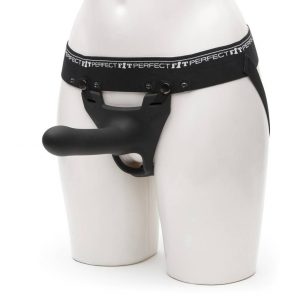 The Zoro is certainly a strap-on dildo kit that suits both the wearer and the starer. A sort of mid-point between the realism of the Doc Johnson ranges and the simple build of beginner dildos, the Zoro is another kit ideal for those new to pegging or dildo play in general.
Whilst the dildo isn't 100% realistic it is built incredibly well, with special attention paid to the shape and also a 'bulbed' tip which gives the receiver that extra bit of pleasure as the tip is inserted, and once the tip is removed. The realism of the dildo isn't exactly an issue either, unless you're really militant about that and need to have a dildo that comes complete with throbbing veins and a realistic scrotum.
If, however, you want a modern looking strap-on dildo with a very stylish waistband that is more like a jockstrap than a standard strap (that also provides access to the wearers genitals), then the Zoro is absolutely ideal for you.
Product Breakdown:
6.5 inches of insertable length

Easy to wear the waistband for the user
The kit comes without a bulky strap, meaning both ease of wearing and very discreet storage

Access to genitals of the wearer means copious amounts of fun

Very modern and built from the standard, easy to clean and ultra-safe silicone material
If you're looking for an ultra-realistic dildo with plenty of girth, this isn't the one for you

Doesn't come with interchangeable O-ring options therefore if you're buying the Zoro, you're doing so knowing that you may need extra dildo or strap purchases in the future
Recommended For:
Couples looking for a modern dildo without a bulky harness, but also one that isn't completely strapless (so that there's no messing around for the wearer).
5. Happy Rabbit Strap-On Vibrator With Harness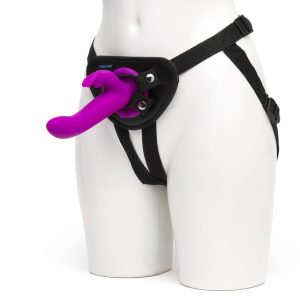 Here's one that is a little different, and certainly one that has brought pleasure to many of the couples I share my pegging story adventures with! The Happy Rabbit comes highly recommended from quite a few people I've conversed with once starting this site, and with my partner having a vibrator very similar to the one in this kit, I can attest that it certainly provides the level of pleasure that is promised in the description!
With a whopping 15 vibration modes and a minimal insertion length (at least in comparison to some of the dildos in this guide), the Happy Rabbit is a beginners dream for women looking to either get hold of a vibrator and kit combo, or for a female receiver to engage in maximum pleasure.
Let's have a look at the breakdown quickly, before you go flying off this toy guide and get adding the Happy Rabbit into your basket (no pun intended).
Product Breakdown:
Silicone vibrator both safe and waterproof for endless fun in and out of the bedroom

15 settings from mild to ultra-pleasure!

Adjustable harness with ample room for the vibrator to fit snugly (and securely) in place

3 sizes of O-rings so that the vibrator the kit comes with can be swapped-out
Easy to use and clean

Plenty of options when it comes to vibration intensity

The vibration mode brings pleasure to a whole new level
Vibrator is not life-like and for many, they may want to use their own vibrator if given the option (which is why the kit comes with 3 types of O-rings too)
Recommended For:
Female receivers wanting to be pegged with the addition of , quite frankly, an amazing vibrating dildo!
6. Doc Johnson Remote Control Strap-On Set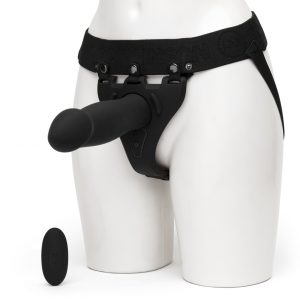 If you've made it this far, then when you think of a Doc Johnson dildo you might be thinking of something that's lifelike, then that's all. Well, you'll be pleased to see that they've also branched-out into vibrating options that, to put it mildly, certainly get the job done.
Everything about this set is premium. From the thick, durable and easy to use harness, to the sleek matte black dildo, and the added ease of the external remote for complete control over vibrating intensity, this one isn't for the occasional user.
There's also ease of access to the back of the giver if you, as the receiver, want to provide pleasure back! In typical Doc Johnson style it's thick both in terms of girth and length, so let's jump to the product breakdown and see exactly what you'll be dealing with if you strap yourself into (or get pegged by) this modern miracle from Doc Johnson.
This is certainly a strap-on kit for giver, as it's actually the harness itself which vibrates! So for once, it's not all up to the giver to provide the pleasure (just don't expect whoever's getting pegged to have the concentration to switch your remote vibration speeds as required).
Product Breakdown:
7 inches of girth, with a whopping 8 inches of insertable length

Vibrating harness for sustained pleasure to the giver (meaning that both parties get something out of this set)

T

he remote provides 7 different vibrating patterns, with 3 speeds to choose from
The vibrating harness is certainly the focal point of this set, providing maximum pleasure for the wearer

The dildo is girthy and will provide intense pleasure to whoever is lucky enough to receive it
The thickness of the dildo may put some beginners off (and I can understand why at 7 inches).
Recommended For:
Couples already familiar with pegging who want to take things to the next level with a harness that gives out just as much pleasure as the dildo attached to it
7. Fetish Fantasy Hollow Vibrating Strap-On Set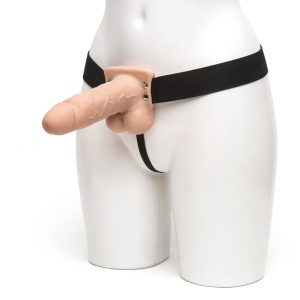 This is a set that I've truly come to admire. Initially I never really understand why hollow dildos were so popular, but after speaking to men with erectile dysfunction issues it instantly clicked.
What these hollow dildos combined with a strap-on provide is a fully functioning penis and sexual experience that couples suffering with erectile issues otherwise may not be able to fully attain.
This kit in particular literally has it all. From the realistic hollow dildo which will give the receiver 7 inches of pleasure, to the veins and balls that make it a true to real life in terms of feel and touch, Fetish Fantasy have done an excellent job in ensuring that whoever slips their member into the hollow inside gets a realistic attachment (and the realism is just the same for the receiver too).
The dildo also vibrates with several settings, meaning that not only is it lifelike but it also provides maximum pleasure.
Product Breakdown:
7 inches of realistic hollow dildo-goodness with a 6-inch girth

7 vibrating patterns with 3 varying speeds

Fully rechargeable with a USB port, all sitting with a modern and secure safety harness
Incredibly realistic dildo that is comfortable for the wearer, and with the vibrating setting provides maximum pleasure to the receiver

Multiple vibration settings will certainly keep couples entertained
Unless you're purchasing specifically for the hollow option, this may not be the perfect set for you
Recommended For:
Couples experiencing erectile dysfunction issue looking for a lifelike strap-on option that still provides as much intimacy as intercourse with a sexual aid
8. Lifelike Lover Posable Strapless Strap-On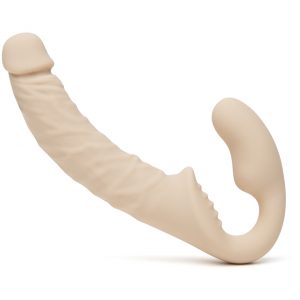 One thing that you'll commonly see with the strapless strap-on dildos is that they often will not be lifelike (or at least as not as lifelike as their standard dildo counterparts). Well, if you've been searching for a while and have been struggling to find something that matches what you may have in a lifelike dildo, then you can trust Lifelike Lover to produce what it is you seek in pleasure endeavours (after all, it's literally in their name).
The posable dildo is exactly that; 6 inches of easily manoeuvrable insertable length, with a ridged body and lifelike head to give the receiver that extra step of realism.
The pony is 3 inches of length with just over 4 inches of girth, meaning that your partner will not have any issues in keeping the dildo in place.
The whole strapless popularity is arguably stemmed in the lack of intimacy that a harness provides, therefore if you're looking to keep things as intimate and realistic as possible then this is one of the better options for you.
Product Breakdown:
One of, if not the most lifelike strapless dildo I've seen on the market in 2020

Easy to manoeuvre and the silicone construct ensures the dildo is safe for users
Incredibly realistic dildo that is comfortable for the wearer, and with the vibrating setting provides maximum pleasure to the receiver

Multiple vibration settings will certainly keep couples entertained
Whilst not ultra-girthy, the size may still be a little intimidating for beginners
Recommended For:
Couples familiar with pegging who want the intimacy and realism of a lifelike dildo, without having to worry about potential complications via a harness or strap
9. Fetish Fantasy Ejaculating Hollow Strap-On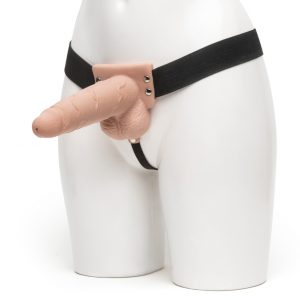 Now, I've covered the reasons why hollow dildos combined with a strap-on are so popular, but if you're a couple really looking to take the realism to the next level, then the Fetish Fantasy Ejaculating Dildo will be right up your street.
Not only is this a very generous 7.5 inches of insertable length, but the dildo holds a liquid store in the tip which can be released with a squeeze. The hollow dildo is comfortable for the wearer, and you'd never know about the liquid storage in the top until it comes to getting time to release your load.
Compared to other harnesses, the strap of the dildo is very minimal, which I think is actually quite nice compared to how others can be incredibly bulky or take forever to get on (and to the correct width).
There's no spillage during thrusting either so the wearer won't be worrying about.. ahem …releasing their load too soon.
The entire penis is also just very well thought-out, with those throbbing veins and chunky balls that many couples will be looking for.
Product Breakdown:
7 and a half inches of insertable length

Super-realistic with veins and balls

6.25 inch girth for maximum pleasure
The ejaculating addition to what is already a lifelike dildo makes the realism second-to-none for couples

Another hollow dildo that is perfect for people with erectile dysfunction issues
If you're not looking for ultra-realism and just want a starter strap-on kit then this probably isn't the one for you
Recommended For:
As for the other hollow dildos in this list, it's literally perfect for anyone with erectile or ejaculation issues wanting that next-step of realism in the bedroom
10. Doc Johnson The Gal Pal Strap-On
The final choice in my guide, and one that from personal experience is amazing for the receiver, is the Gal Pal from our friends at Doc Johnson.
Due to the shape of the pony my partner opted for the anal insertion option, as the ridges provided intense anal pleasure compared to the commonly flatter stylings of other strapless dildos. And, you just need to look at the dildo itself to see how much pleasure you can get out of it, whether you opt for anal or vaginal insertion!
I also really wanted to include this as the last dildo in the list because, if you've been reading this all the way through, then you might be expecting anything going forward from Doc Johnson to be a girthy beast.
This is almost jarring as the Gal Pal is 5 inches of insertable length, with the curved pony/bulb nearly matching at 3 inches (so your partner can rest assured that once inserted, this won't interrupt thrusting activity or be going anywhere).
All in all it's a great dildo to end this top-ten guide on, and certainly one for beginners wanting mutual anal to check out (or at least, that's what me and my partner opted for, with excellent results!).
Product Breakdown:
5 inches of insertable dildo length, with the bulb offering 3 inches

Ribbed throughout for both the giver and the receiver

Curved for the wearer too, which provides further stimulation
Incredibly easy to 'slip into', and the added girth ensures that the dildo is snug and safe within the wearer

Fantastic for beginners and for anal-specific play
The 5 inches of length might not be enough for some experienced users looking to take on a girthier challenge
Recommended For:
Anal-specific play for experienced couples looking to add an extra strapless dildo to their collection
Beginners Guide To Pegging
Rather than putting together an entire guide of 'dildo goes into hole, then pump gently', I thought it'd be better to address some of the types of questions that beginners have when it comes to getting started in pegging.
Pegging is the act of, most commonly, a woman in a relationship using a dildo on a male. It isn't exclusive to male-female couples, but when the majority of people mention or partake in pegging, this is what they're referring to.
Can you do pegging anally for both the wearer of the strap-on and the person being pegged?
Yes, of course. Many male couples engage in pegging as a way to mix things up, or just as a way to stay safe and as an alternative to penile penetration. Additionally, I've spoken to multiple female couples who engage in anal-only pegging, and have designated strap-on kits for anal fun.
Pegging is much more common than many couples realise. Whether that's more a specific taboo for couples in general, or something that, especially straight guys, just don't want to talk about from a standpoint of masculinity, you'd be incredibly surprised if you asked around regarding just how many couples have experimented with pegging (and I highly recommend it).

The Story Of Me Pegging My Boyfriend For The First Time
Holly, who is one of the contributing bloggers to this site, has kindly volunteered to share her story of her pegging adventures with her boyfriend (he doesn't want to be named). Plus, it's much more insightful than any story I could write so without further ado, over to Holly!
How Me and My Boyfriend Initiated The Talk About Pegging
The initial conversation we had wasn't just talking about pegging, it was more of a wider talk around our fantasises when we, unsurprisingly, were incredibly drunk. We'd been talking with a couple who were just as wasted and were discussing their pegging adventures.
On the taxi ride home we brought it up, jokingly at first, and with the rum doing its work in our bodies we began to open up about our kinks and the types of things we wanted to explore in the bedroom (pegging being one of them).
Fast-forward to the morning after, and over two strong cups of coffee and pounding head, my boyfriend initiated the discussion again about pegging. I've always loved playing with his ass during sex anyway, and slipping a finger in prior to climax makes his orgasms infinitely more intense. So, with this experience in mind, we set about buying a kit very similar to the Doc Johnson Realistic Dildo Set (because we wanted to invest in a kit with multiple sizes that my boyfriend could work up to).
Position For Couples Pegging For The First Time
In terms of the setup prior to our first pegging experience, I experimented with the harness a few times when alone so that I could slip it on and ensure it was fitted easily (and to be honest, it's really easy and nothing you have to worry about). My boyfriend has always been incredibly clean 'there', even going so far as to use a douche if he knew he was going to request a finger up there!
Now, obviously you don't have to douche every time, and it's not recommended, but for this first experience my boyfriend wasn't taking any chances so he did use a douche to 'wash out' anything that could dampen the experience!
After fooling around and engaging in sex, he actually pulled the kit out and requested we give it a try. I applied lube very, very liberally to both the dildo and to his ass, and used my finger 'loosen' prior to thrusting! We went for a missionary position which my boyfriend said felt incredible, as it enabled him to guide me in gently, controlling my hips, whilst I was also able to remain hands-on with him too!
The first time didn't last long, and I did keep stopping to ensure that the lube was applied very liberally. It took a few times to work up to the point where my boyfriend would be comfortable with vigorous thrusting up to the point of climax, but once he did… let's just we were both covered in the results!
Now, we engage in pegging at least a few times a week, all at the request of my boyfriend. He's started to graduate to the larger dildos in the set that we bought, and the experience is nothing but super thrilling for the both of us. The only advice I can say that you've probably heard already is to be totally honest with your partner and take thing slow. Your sex life and explosive orgasms will certainly thank you!
Now that you've heard first-hand not only what a beginners experience is like, but also how it's certainly very common for couples to explore their fantasies (so let's combat that taboo), I've put together some steps that I took to make pegging easier less of a challenge for me, and also how I took the steps to ensure my partner also was fully clued-up on how to initiate 'giving' for the first time too:
What steps should beginners take to make pegging more pleasurable?
Use lots of lube. Those unfamiliar to anal may just assume that it's as simple as 'sticking it in', but the anus does not make its own lubrication so you're going to need to apply liberally to avoid any potential of cuts or tears

Take things slowly. There's nothing worse than rushing and ruining the pegging experience, which means that for many couples, they just try once and never bother again

Disregard what people say if they think it's something strange for couples to do. Pegging is a much more heterosexual activity than many realise, so don't listen to the haters. It's you as a couple that have decided to experiment, and as long as you're consenting and safe, it doesn't matter what anyone else has to say.
In case I didn't make it obvious enough throughout this guide, I'm a huge fan of pegging. It's fun, safe, and provides an often much needed new angle of sexual interaction for many couples who are stuck in a rut, much like the addition of a large dildo into any dusty sex toy collection. 
Just remember to take things slowly and spend the time to pick the right strap-on kit or dildo that is right for you as a couple. Happy pegging!