Save yourself a bit of cash and make your very own sex swing at home. Making your own sex swing can be a fun way to express your creativity and sexuality. It can also be a great introduction project if you're thinking of creating a own sex room at home… and who doesn't love a do-it-yourself-er?!
But what goes into making your sex swing? And is it worth the effort to make one? We will answer all of these questions in this article, so let's get into the swing of things…
What Goes Into Making Your Sex Swing? 
There are a few different ways you can create your sex swing from home because most of the parts you will need to make one can be found around your house or for very cheap from your local store.
People may think designing a sex swing in your home will be costly and not worth the effort, but there are various ways you can make an excellent swing without breaking the bank or wondering why you started the project in the first place! 
Sex Swing Safety Advice   
Before we dive into how to make different sex swings around your home using a little DIY and some imagination, we first need to address some safety rules to bear in mind when making your homemade sex swing. 
Ensure that all equipment or materials are secure and safe for you and your lover's body weight. The last thing you want is your swing collapsing on you mid-session! 
Also, check that the straps you decide to use for your DIY swing are not too flimsy or not cushioned enough to the point where the wearer could get cut or sore from wearing them. 
Inspecting the swing thoroughly before getting your clothes off and jumping right into it is advised so that you can change or fix any elements that could cause injury to either you or your partner.
Making a DIY Sex Swing At Home
Now you know that it is possible to make a sex swing at home and you also have some safety tips in mind, we can give you a couple of notable and easy-to-do DIY sex swing projects that even the most beginner of DIYers can create!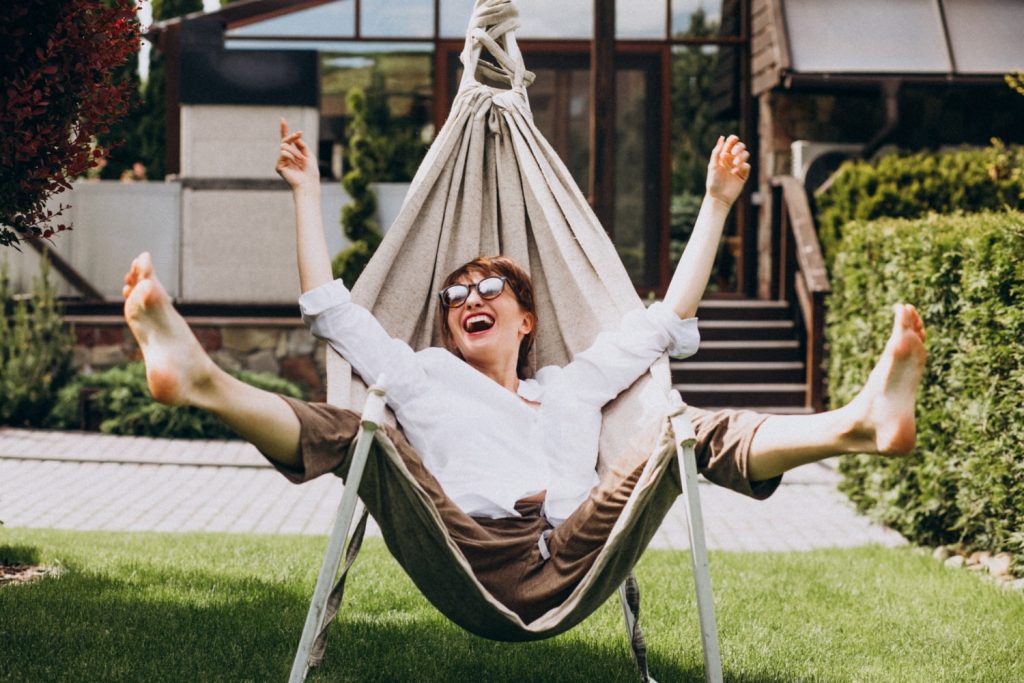 Outdoor Sex Hammock
Now you know that it is possible to make a sex swing at home and you also have some safety tips in mind, we can give you a couple of notable and easy-to-do DIY sex swing projects that even the most beginner of DIYers can create! 
Some canvas-like material 

A cushion 

Some straps 

Easy-thumb release buckles 

Steel O-rings 

Three yards of Velcro 
When it comes to making this outdoor sex hammock, you may need to have some sewing skills to piece it all together, but other than that, you will be well on your way to making your very own sex hammock!
How To Make It 
So, how will it all come together? Here is a step-by-step on how to achieve the ultimate outdoor sex hammock. 
Firstly, you will need to take your canvas piece and then pin the velcro to each side, sewing it in place. 
Then, get your straps; you will need more straps depending on how big your hammock is going to be and then lay them across the canvas evenly so they can be used as support for when you are laying or sitting within it. Then you will need to sew them in place, so they don't move. 
Next, use the easy-release buckles to attach the straps and have them so they can be adjusted quickly. Remember, these will hold up your weight, so ensuring they are sewn in and buckled correctly is extremely important. 
Finally, add your desired cushion and sew the other side of the velcro on the backside of the cushion so it will line up with the velcro on the canvas to create a sturdy, non-slip seat to sit comfortably on. 
You can then easily add your steel O-rings to either end of your hammock, or wherever will suit your needs best and hang it anywhere outdoors or indoors if it's too chilly for garden sex!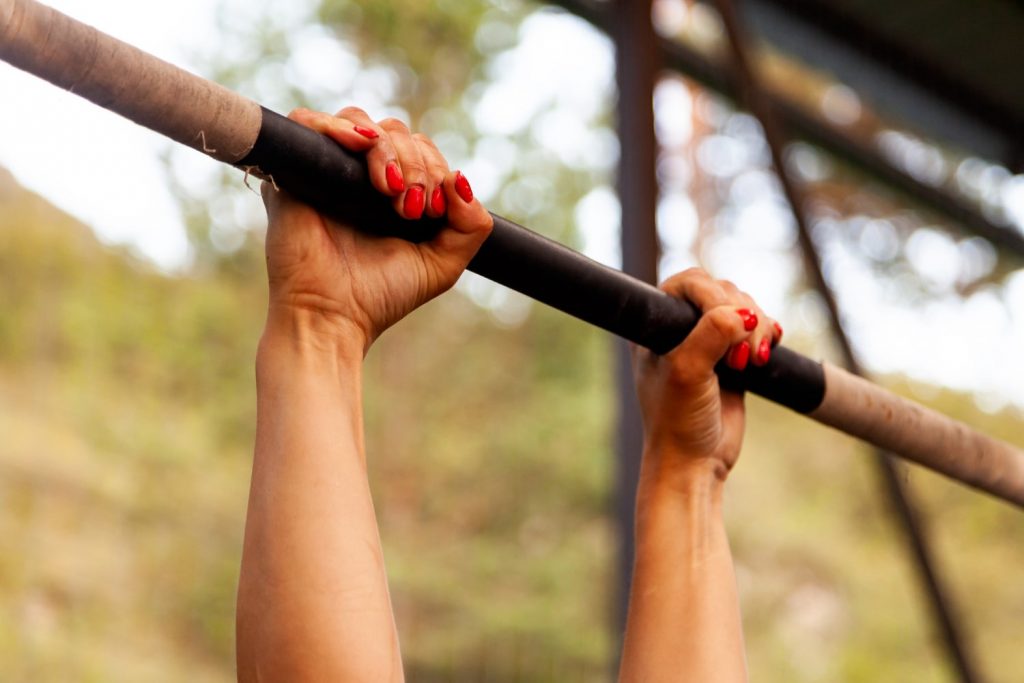 Pull Up Bar Sex Swing 
We all know the pull-up bar you bought for your "new year's resolution" will never be used. Or now maybe it will… 
Pull Bars are great for use as a sex swing. They are bolted to the wall or door and are made specifically to hold up human body weight, so they make the perfect stand for any desired sex swing; all you need now is the material. 
For your Pull-Up Sex Swing, you can use a variety of materials. You preferably want something that can be easily manipulated and maybe even sewn into different shapes to create the seat section of your swing. 
Materials such as satin, silk, and nylon are all excellent fabrics to use that can be moulded to how you want but are also highly comfortable to sit on and are very easy to clean off afterwards. 
How To Make It 
Making your Pull Up Sex Swing is pretty simple. All you need to do is measure out your fabric so it can drape over your pull-up bar and have enough room to create a seating area, and then either bolt or strap that material into place so it won't break or fall off. 
Then you can use accessories; depending on how much room you have on your pull-up bar, you can add straps, leg supports, or other types of bondage to your swing to really give you and your lover the whole BDSM experience. 
This type of swing is probably the easiest one to do and the quickest, meaning you can wake up, put up your swing and get to playing in no time without having to fuss around with sewing and full DIYing if that isn't really your thing.
Is It Worth The Effort To DIY Your Sex Swing?
If you want to save money and enjoy a bit of sewing and creating, making your own sex swing is an absolute doddle! Having a DIY sex swing at home can be an excellent way for you and your partner to bond over the creation of said swing, but it also can provide you with an added excitement for the end result when you have completed your DIY swing project!  
The only thing that could make it not worth your time is if you are not the biggest creative or DIY person or if you are new to sex swings or are not planning to use them regularly. If this is the case, putting in loads of effort into making, designing and creating your own sex swing might be a bit more effort than if you were just to buy one that you can put up and away whenever needed. 
Final Thoughts 
Having a sex swing can be a great way to add a bit of BDSM excitement into your sex life and is a fun addition to the home. Making your own will always be more healthy on your purse strings.
Not just that, but having created your own personalised sex swing means that you have a fitted and moulded sex swing designed for you and your lover's bodies and your likes and kinks rather than trying to make a shop-bought one work around you. 
We hope this has inspired you to make your own DIY sex swing and helped give you some ideas on how to achieve it!