If you are one of the keen mother-pluggers who love the sensation of having your butt-toy in all of the time, that's great! But before you go out to your local store with the euphoric feeling of being stretched and pulled, there are a few things you may want to consider before you decide to go out all day with it inside of you.
Are you an expert plugger?
Like with anything, experience is your friend and things are no different when it comes to anal play. Your anus is a delicate creature and needs to be teased and stretched slowly and over time to gain the full momentum that you are looking for. This also comes into play when you want to keep it in you for long periods, as with experience, you will understand your body and when you need to stop. 
If you are a beginner plugger, just be patient. We know you want to head out on your anus-fun journey but you have to look after your body and learn what works for it. Patience is a virtue so take it slow and perhaps stay at home to enjoy your pleasure and gain the experience first before diving straight into it and heading out in public. If you're wanting a challenge, then check out my guide to the best large butt plugs for stretching.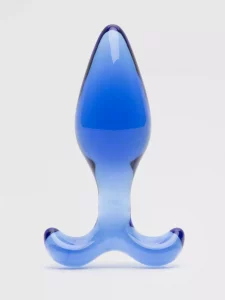 The Plug Shape 
Extended plug fun isn't just about grabbing your nearest butt toy and shoving it in for hours on end. When looking for a plug to have inside of you for a long time, you need to look for specific styles and shapes. Not doing this can lead to a lack of blood flow, tears on your anus wall and just a bad time overall! 
When looking for the perfect toy you need to consider a few factors. The stem is important for insertion but you also need it to stay put for a while, so having a stem that is too long could become very uncomfortable. You will want to look for a shorter stem so that you can insert it with ease and not have that awkward rubbing against your cheeks all day. 
As for the shape of the plug itself, anything with a ribbed or multifunction option is probably not the best for long wear, as these kinds of toys can unpleasantly rub on your anal wall. If worn for too long they can pinch and pull, which can lead to injury. So simple is the best for long term use. Look for a smooth silicone pointed anus plug that will be easy to insert but also give you the pleasure you are looking for. 
So How Long Can I Have a Butt Plug in For? 
Now you have found the perfect butt plug for your fun, the real question is how long can you actually have it in for? A lot of experts say "probably 10-12 hours" but we feel a bit unnerved by the word "probably" so our advice, personally, is to go no longer than three hours of continuous plugging, and then give your anus a break of around 30-45 minutes throughout the day. This gives your body time to recover and for you to also do some basic things like go to the toilet and sort yourself out. 
Having a toy inside your body for an extended time can take a toll, so make sure if you are going out into the world for some public fun, pack some handy lubricant with you so that you can lather yourself up all day long and keep you and your butthole happy! 
So, if you are wanting to have your butt plug in all day, go for it! There is lots of fun to be had and we wouldn't want to put a dampener on that. All we ask is that you are proactive in your butt health and safety and not do anything that will put you or your anus in any sort of danger. Have safe anus fun, you pluggers! 
If you loved this breakdown, you'll also enjoy: