Can you actually make lube at home? 
Lubrication during sexual activities is absolutely essential in many cases – it reduces friction and makes the experience a whole lot more pleasurable.
If no lubricants are used, the results can be sore, or even unsafe in the case of split condoms! Of course, there are a whole host of official lubes available to purchase, but they can be both expensive and a little boring.
Many people may be tempted then to find or make their own lubes – this can be both more fun and cheaper, but some things which might seem intuitive to use might be less than appropriate.
This article has a look at the 8 top contenders for best homemade lube alternatives, giving a quick breakdown for each!
1. Coconut oil
Coconut oil is a great lube choice for many people. It feels great, and many people enjoy the smell and taste as well. As well as being nice to use, studies have found that coconut oil contains both moisturising and anti-inflammatory properties, making it a solid healthy option.
It's cheap to buy, and you just need to melt it in the warmth of your fingers for a moment or two before applying it. It is however an oil based lubricant, which means that it shouldn't be used with latex contraception methods as it can damage them, leading to tears and rips. 
2. Yoghurt
Another culinary option (you'll notice there're a lot of these on this list) is yoghurt. It's cheap, tasty, and there is evidence out there that it can aid with the treatment of vaginal thrush. Other commonly used lubricants such as spit and butter can actually lead to bacterial infections, so it's nice to see that there's an option which can help with rather than hinder genital health.
Plain yoghurt is probably the safest option, the sugars and bits in flavoured yoghurts might taste great but could lead to unexpected health complications. Any leftovers can be used for a much needed healthy post sex snack!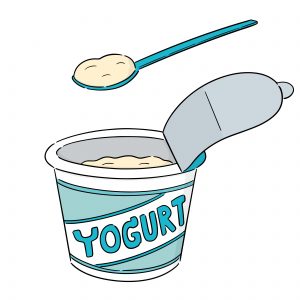 3. Aloe vera
Another healthy and safe option which many people will have in their homes is aloe vera! Commonly used for skin health and to help aid with the effects of sunburn, it's a safe and healthy alternative suitable for homemade lubricants.
It's water based so safe to use with latex contraceptives, and is good for both skin health and reducing irritation.
One warning however – if you're using an aloe vera product for lubrication, make sure that it doesn't contain anything that might harm your skin. Some aloe vera lotions for sunburn contain alcohol, which may actually dry out and harm your genitals.
If you get it straight from the plant, you should be fine! If from a tube or tub, read the label.
4. Olive oil
Another good oil based culinary option is olive oil. I'm yet to find a kitchen which doesn't have at least a little bit of olive oil, which makes it a good choice if you don't want to go out or the shops are shut!
Like coconut oil, it shouldn't be used with latex condoms as it could cause them to rip, but it's tasty and otherwise safe and effective! One thing to note about olive oil however, is that it isn't easily absorbed by the skin.
It is therefore important to wash thoroughly after use, to make sure that no pores are blocked, which could potentially lead to infection.
5. Sweet almond oil
A slightly less common example that not everyone will have in their cupboards, sweet almond oil is another delicious lube option. As you can guess from the name – it's oil based, so unfortunately not safe for use with latex condoms.
Sweet almond oil smells and tastes amazing, so it makes a good option for oral sex. It's slightly more expensive than the other options, but as it's oil based, you don't need to use loads so it should last a while. Why not try it out!
6. Ghee
An option that not everyone will be familiar with is ghee.
A kind of highly-clarified butter used in cooking, with origins in ancient India, ghee is a good alternative to butter due to its health properties.
As a result of the way it's made, it doesn't go rancid as quickly as butter, meaning it's safer to use without as much fear of infection. If you have sensitive skin, it might be a great option – it's good for your skin and has powerful moisturising properties.
It tastes great as well, making it another good option for oral sex – although I personally don't think any of the options on this list taste bad at all. As it's oil based, again, sadly no use with latex contraceptives.
7. Avocado oil
Most of the options listed above have a distinct taste and smell. While lots of people will enjoy this, some people might want sex and food to remain separate. Avocado oil might be handy if this sounds like you – it has no strong smell or taste, but is safe for both skin and consumption.
It's not the most common option out there, so you might have to search a little to find it in a shop, but it's worth giving a go if you don't like the other choices. As with all the other oils, no latex.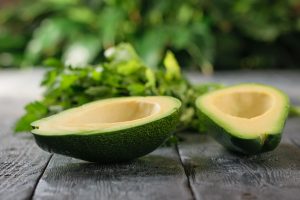 8. Cornstarch and water
The only option on this list which requires a tiny bit of preparation (unless you're harvesting aloe vera from the plant) this option can be great and offers a little bit of personalisation.
Add about four teaspoons of cornstarch to a cup of boiling water  and stir it for 15 minutes; if you want it to be thicker, add more corn starch, to make it thinner, add more water. Once you've made the mixture, you can use it when it's cooled and then store the rest in a bottle or jar for later.
The good thing about the mixture is that as it's water based, it's safe to use with condoms. The mixture will be both smooth and hypoallergenic! 
Conclusion
Whether you're making lube or sex toys at home, it's important to make note of things you could be allergic too, and ultimately that everything you create is done so in a sterile and safe environment. 
Or, if you're willing to wait a little longer, there's always plentiful ranges of lube made by the experts if you don't want to take the risk with the ingredients in your fridge!