You might have seen butt plugs shopping for sex toys online, or even in your local sex shop (yes they still exist). But, you might be wondering… What are they actually used for? I mean, the name might be obvious, but if you've never done the research then it can still be quite a mystery (often like when people new to this side of life first see a chastity belt and can't work out what it's used for). 
In this beginners guide to butt plugs I've outlined some of the more common types/shapes, recommended butt plugs that are currently part of my collection, and also some general advice on where to start.
So… What is a butt plug actually used for?
Is it too obvious to say it's an adult toy that you put up your butt? In all seriousness, a butt plug is commonly a silicone, 'bulb' shaped toy that has a flared base and wide centre which, once inside the butt, fits snugly enough to stay in place for the period of time the user deems appropriate.
As it is narrow at the top, it's a fantastic toy for anal warmup and for beginners as the initial size is not too overwhelming.
How do you use a butt plug?
I cannot be any clearer on this point, especially from past experience. However you use a butt plug, it must be done with plenty of lube!
You want to ease the plug into your butt, and do so gently. Allow your butthole to 'work' with the plug, and do not try to force it in (remember that the further it goes in, the wider it will go until you reach the base).
There are several recommended positions for anal toy insertion, and at the end of the day it completely depends on your personal preference with this one. For myself, when it comes to butt plugs my favourite positions for both plug insertion and retrieval are:
Doggystyle

Missionary

Squatting over the plug (ensure you're holding on to something sturdy in order to avoid slipping onto the plug… Ouch…)
Is using a butt plug safe?
Using a butt plug is perfectly safe as long as you ensure you're buying your plug from a reputable site, preferably from a beginners range that has already been reviewed by other butt plug virgins.
Like any sex toy, it's crucial that you start small and slowly, especially if you're a beginner to anal play as well. With any toys going in the anus, it's vital that you're very liberal with the amounts of lube used on the toy and your anus, as it is not self-lubricating like the vagina (and the last thing you want is to deal with tears via an excited butt plug related incident).
Also, I've already mentioned this but it's very important with any toy that goes in any orifice to have a flared base or a sturdy 'exit', especially when it comes to anal play as the anus tightens and it can be hard to retrieve objects that do not have a pre-built means of exit such as a flared base or finger pull (it'll also end up in a potentially embarrassing trip to the emergency room).
Are butt plugs only for anal use?
There's no hard and fast rule here. Obviously, you're not going to leave a plug in for a week, but then again a beginner may worry after it has been left in for 30 seconds.
It is recommended that you wear a butt plug for a maximum of 3 hours. Any longer and your body may attempt to take care of the obstruction, so it's worth taking a break at the very least to give your anus a breather after that amount of time.
What's the best way to clean a butt plug?
You can clean a butt plug like any toy, usually with lots of soap and warm water, ensuring it is cleaned and rinsed several times for maximum cleanliness. Some people even pop their toys in the shower or bath after they've hopped out, and give them a regular rinse.
I've even heard of people pooping their toys in the dishwasher. Now, there's nothing wrong with this (and most toy materials such as silicone will be fine in the dishwasher), however if you've got conservative housemates then opening up a dishwasher full of pristine butt plugs and dildos might not be how they want to start their chores).
And, if you're worried about cleanliness, then the best way to prevent any… ahem.. residue… is to thoroughly douche prior to any anal play. Douching is not recommended as an activity to do continuously or on a regular basis, so if you're worried about any potential implications then by all means get in touch with your GP for advice prior to commencing in anal adventures!
The different types of butt plugs explained
As is common in the world of sex toys, one category of toy leads to multiple incarnations and variations. And, with butt plugs, it seems like the variations are endless.
I've chosen some of the more popular types of butt plugs, so whilst the below isn't an exhaustive list of butt plug types, it should certainly be enough to open your eyes to the opulent anal possibilities that these plugs can provide.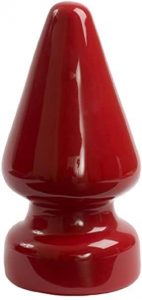 Falling into the large adult toys category, large plugs are exactly what you expect them to be. The larger plugs are commonly both wider, and longer in length, meaning that they offer a challenge from all angles.
Some of the larger plugs will also be of different shape, such as the 'Round Plug' from Doc Johnson which is literally a plug that doesn't start with a tip, so unless you're very experienced with anal insertion I wouldn't recommend starting with the type of challenge that a large butt plug provides.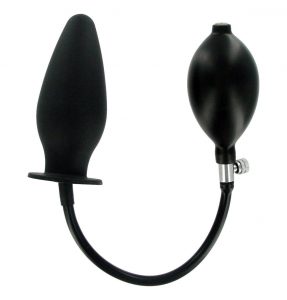 I'm guilty of being a huge fan of inflatable plugs, as it's essentially a butt plug starter kit rolled into one convenient toy.
The plug will come with a pump attached via a tube, which is used to allow the current to fill up the plug once pumped with your hand. Many inflatable plugs will also have a release valve to shrink the plug back down to its original size, so that once it has been pumped up it will retain its shape for as long as you need it to.
Inflatable plugs are great fun, and a way to really test your anal limits without having to buy a huge range of plugs in different sizes.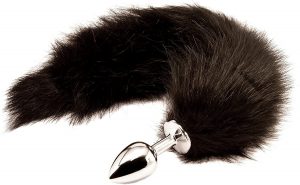 Some people think fox tail plugs are great fun, whilst other are a little weirded out by the whole prospect of them. Personally, I'm somewhere in the middle.
Whilst I'm not necessarily popping my fox tail plug in at every opportunity, I can certainly appreciate the role playing and kink aspects that come with furry plug!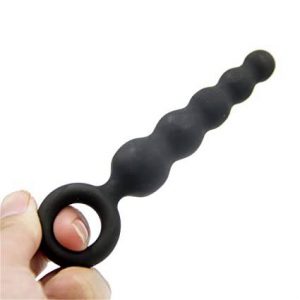 If you're overly concerned about safety and avoiding any anal vacuum incidents, then buying a plug with a finger pull is the best option.
Not that they're much safer than a plug with a flared base (which are also very safe), but they just offer that little bit higher degree of control as you can pull and push to the finest degree and get to grips with your plug.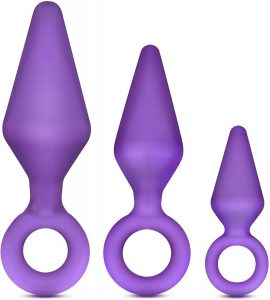 I've included what you might think to be an obvious option, but in this post I'm doing my best to ensure that anyone new to anal or butt plugs makes the right choice from the start.
I highly recommend beginner plug sets for anyone looking to not only get comfortable with one plug, but to at least progress slightly in sizes.
Now, you don't have to opt for multiple plugs as a beginner. However, my thinking is that you're going to want to experiment with at least a few plugs to find one that you're comfortable with, and can wear for a little while to get used to the feeling.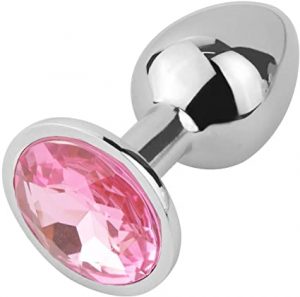 Now we're getting fancy! For anyone feeling like extending their jewellery collection to include what sits neatly in their ass, then a jewelled plug is a perfect choice.
They're usually quite small plugs, and are bit to sit nicely in place whilst engaging in sexual activities. They're also one of the more common plugs purchased, which is both down to looks and the modest sizing.
In case you hadn't guessed… jewelled plugs are my favourite…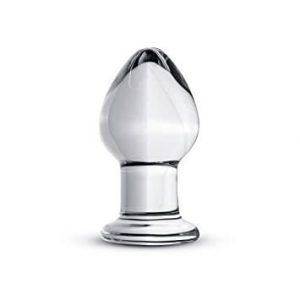 For anyone allergic to silicone or just wanting a bit of a change, you can also opt for glass plugs.
These are just as sturdy and easy to clean as silicone plugs, and glass is actually one of the more common materials used to make butt plugs. They're also a little weightier, so you'll be more aware of their presence in your butt than some of the smaller or lighter plugs.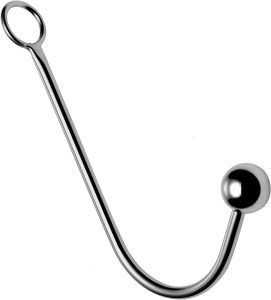 I nearly didn't include anal hooks as they aren't strictly a butt plug (and may need their own separate guide), but then again there are certain aspects that are very similar to butt plugs so it's certainly worth touching on.
Very commonly associated in BDSM circles, anal hooks are often combined with bondage to create a hook between the top and, well, bottom of the wearer.
One end of the hook either a circular plug or standard plug shape, made for anal insertion (based on the angle of the hook).
The top-end of the hook is usually a loop, which is used to attach a rope or chain, which is then tied round the wearers neck or head (often via a collar attachment).
Anal hooks, being a bondage tool, offer little to no movement as the wearer is commonly tied. Therefore, if you're not looking to engage in this sort of activity then you might be better off sticking to butt plugs (I just wanted to make you, dear reader, aware of their existence in case you see one in the future and think 'that butt plug looks weird!').
Okay, why care about which plugs are my favourite? Well, over the years I've tried out multiple different types of plugs, so that you don't have to waste your money (and waste an ass stretching session).
And, I'm quite confident in outlining the below three kinds in being the most fun, or at least the ones worth the money.
A butt plug anal training kit is so much fun for anyone new to anal play. The butt plugs in any half decent kit will be of varying sizes and shapes, so that you can really test out your anal dexterity and work out which size, texture or shape is your favourite.
I view my inflatable butt plug as multiple plugs in one. If I'm in the mood to be 'filled', then I can inflate as required. If I just want to test my limits with a stretching session, then I can do that too.
And the best part? No matter how big I go, it'll shrink back down to size and fit nearly under my bed in a discreet sex toy box (once it has been cleaned thoroughly of course).
I keep my jewelled plug for when I'm feeling 'extra'. Enough said on that one…
Hopefully this guide has been a help to not only working out what you can use a butt plug for, but also the different types of plugs and ultimately how to get started with this brilliant type of adult toy.
If you enjoyed this guide, check out my other write-up on my foray into the world of becoming a webcam girl!