For all those with a penis, there will come a time in your life when you want to just ever so slightly sophisticate your approach to masturbation.
Your hand alone just doesn't quite cut it, even with lube or after using your non-dominant side. One of the best ways to spice up your approach to masturbation is through using a Fleshlight or pocket pussy.
This article takes a more in-depth look at what those two terms, which are so often thrown around, actually mean, and which one you should choose.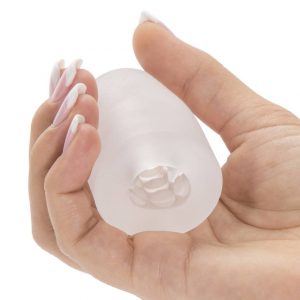 What Is A Pocket pussy? 
Pocket pussy is the more generic term for the sex toy, and covers a wide variety of brands and options. You can even make homemade pocket pussies!
Essentially, it covers all devices which attempt to replicate the texture, tightness, and other variables that combine to create the sensations of a vagina, all in a small, portable package. As a generic umbrella term, there's an incredible amount of variety, from the good to the not-so-good.
It's more of a gamble than buying a Fleshlight, as it's not a term or product connected to a brand, so you don't necessarily get the same assurances as to the quality of the toys. Having said that, they're more portable and are cheaper.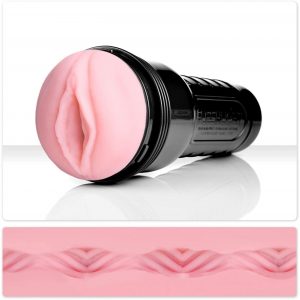 What Is A Fleshlight? 
Fleshlight is not a general term, although it has come to be used as one, like Hoover and Jacuzzi. Rather, it's the name of a brand of pocket pussies, who also make anal and oral masturbators. They've been around since 1998, and in those 23 years of production and experience, have developed a pretty incredible product.
With Fleshlights, you're buying into the brand and the assurance that their quality and significant experience with sex toy production and development brings to the table. It's not such a gamble, you're in safe hands and know that you'll be getting a quality product.
Fleshlight design
Fleshlights, as the name may suggest, have a distinctive design. The casing is shaped to look like a large flashlight, making it discreet for travel and storage, although now that they're so well known, that may be less of a selling point.
While they originally only came in black, there are now a wide variety of designs and accessories; gold is perhaps the most common, but there are transparent options, and novelty designs with more out-there influences from sci-fi and the like.
One of the great things about Fleshlights is that they are to a large extent modular. Once you have the case, you can purchase additional internal inserts, and choose between replications of oral, anal, or vaginal orifices.
This means you can have a lot of variety without needing multiple external sleeves, and if you decide that you've used one part past its best days, you don't need to replace the entire thing, just the part that's worn out.
Fleshlight Launch
A recent addition to the line-up comes from a collaboration with KIROO, which can move the fleshlight remotely while you hold the handles.
You can place your smartphone in the holder, and sync the movement to adult entertainment videos, creating a pretty incredible experience! Again, as it's all modular, you can buy the additions at different times as and when you want, or get it all together in a package.
Customer care
As a big company with a reputation, Fleshlights have a good warranty, a potential benefit over other brands of pocket pussy.
If you follow the care instructions, they should last a lifetime – they're well made, and even though they're priced at a premium, you'll end up saving money in the long run as a result of not having to keep buying new toys. 
Pocket pussy design
As a result of being a generic phrase rather than a brand name, pocket pussy designs are incredibly varied. From homemade pocket pussies to the multiple brands that make them, you can spend as little or as much as you want.
The quality and features vary a lot; some companies may offer similar after purchase support, however you'll have to make sure you do your research, as many of those on the market won't be up to the same standard as Fleshlights. 
Pocket pussy pros
One of the benefits to buying an off-brand pocket pussy is that you can find a lot of variety.

As you're not buying into the Fleshlight brand, you may also end up saving money as well, at least in the short term. 
Pocket pussy cons
It may be more of a gamble in terms of quality; few companies have the experience that Fleshlight have, and that may be visible in the design and durability.
Fleshlight pros
As mentioned before, because you're buying from such a reputable brand, you can rest assured that the design and quality will be impeccable.

The modularity is a big plus, and makes replacing parts and upgrading very easy.
Fleshlight cons
While it's true that you get what you pay for, Fleshlights are priced at a premium, so budget may be a barrier.
Should you choose a Pocket Pussy or a Fleshlight? 
There are clearly benefits to both pocket pussies and Fleshlights, and each will suit people differently. If you want an easy option, with guaranteed quality and a well-thought-out design, then a Fleshlight will suit you perfectly.
They're a little on the pricey side, starting at around $70+, but in the long term you may end up saving money through the increased quality.
 If you don't mind taking a little more of a gamble when it comes to design and quality, then another brand of pocket pussy may suit you very well.
Additionally, if budget is a concern, you'll be able to pick one up for not too much money at all, or even make one at home yourself! If you want tips on how to make one yourself, check our article on how to make a fleshlight at home.