There's no denying that anal for a first-timer is a thrilling experience. You're no doubt a little nervous alongside a whole host of other feelings in anticipation to taking the real thing.
But, as you may be aware if you've already been experimenting with things like butt plugs, the anus can be notoriously stubborn in taking foreign objects that want to pop in for a visit.
For beginners, the best way you can stretch your anus is to go slowly and use a beginners set to really build up to the size of the real thing. This is vital when it comes to taking girth alongside length, as I'll discuss throughout the review.
My favourite (tried and tested) beginners stretching & anal prep kit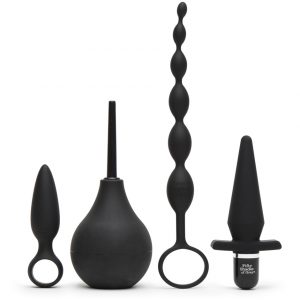 How can you stretch your ass ready for the real thing?
My number one tip is to use a lot of lube and a boat load of patience. 
We're going to get into the different types of toys and techniques for proper stretching, but it ultimately boils down to the short answer of plenty of lube and all the time in the world to ease onto whatever you happen to be easing on to. 
Whether that's a penis, a butt plug, or a vibrating dildo… choice is yours!
Do you really need to stretch your anus?
In a word, yes. Stretching not only prevents any potential tears that could require medical attention, but will also ensure that taking the real thing is more enjoyable for both of you. 
When you get a new anal toy, you don't just open the box and shove it inside… So you're not going to do the same with the real thing! 
Stretching regularly will also ensure that your ass is getting used to the feeling and process of being stretched, and will no doubt be more welcoming after each stretching session. 
Does anal stretching hurt?
Not if you're doing things correctly. As I keep saying, it's all about taking things slowly and listening to your body. 
Your ass will naturally tighten again once a stretching session, which is totally fine. Don't rush in between sessions either. If you need to take a few days to have a break, then so be it. 
Many people will also opt for wearing a smaller toy such as a beginners butt plug for a longer length of time, rather than trying to insert a larger toy for a shorter amount of time. It's all about what feels comfortable for you and works for your body. 
I'm going to chance it... Will I be able to fit the real thing inside me?
If you're an anal virgin, there's no saying that you won't be able to take a penis inside of you even if you haven't been stretching. 
With that being said, it's likely that it won't be as enjoyable or as pain-free than if you had engaged in at least some form of regular stretching prior to taking the real thing. 
Even playing with your fingers or smaller toys just before taking a penis will help to gape or loosen your ass, which will somewhat relieve the tightness slightly until the session is over. 
4 Steps To Stretching Your Ass As A Beginner
1. Start with small toys or fingers 
Like anything in life, starting small is usually the best way to enter into any new situation and not become overwhelmed or disheartened. 
Starting small and slowly means that you can get used to the feeling of an object entering your anus, and so that you can even confirm if that's a feeling you like in the first place! 
There are plenty of beginners anal kits on the market which will be a great asset (no pun intended), as they will allow you to increase your anal activities in size as you start to become more confident and used to stretching. 
2. Lots of Lube
There's a couple of ways you can approach this, both involving the use of, well… lots of lube… 
The first and my recommended way is just using the more popular Durex lube or whatever your preferred brand is. Slather it on your ass and on the toy you're stretching with. 
The second is to use the types of lube that mildly numb the area in question. I suppose this is more for if you're tackling a gigantic penis or toy, but you run the risk of not being able to detect any potential pain that could be a sign that you need to abort the stretching mission. 
3. Take The Real Thing Slowly
Just because you've mastered stretching with a toy, doesn't mean you can then do a flying jump onto the real thing and swallow it completely with your greedy ass. 
Just like any toy or using your fingers, you're going to want to ease onto a penis and take it as slowly and gently as possible. 
4. Practice Stretching Like You Would Any Other Discipline
When it comes to inserting an object into any of your intimate orifices (usually an ass, mouth or vagina), there's always going to be a period of time where your body adjusts to the feeling and overall happening. 
Whether that's learning how to deepthroat or stretching of any sort, getting used to it will be a process that takes your body time. 
I encourage you to stick with it, and learn to progress with toys and how long you can keep stretching toys inside of you. Treat stretching like a discipline even after you've taken the real thing. Your body and the given of the real thing will certainly thank you for it. 
If you're new to stretching, then welcome to a whole world of fun. This guide is intended for beginners and stretching pros alike who want to brush up on their approach to keeping their ass in shape, and we ain't talking squats!
If you enjoyed this guide, be sure to check out our checklist on the best realistic dildos for those of you looking for that added bit of realism.