So, how do you actually use anal beads? 
There's a common misconception that to use anal beads, all you need to use is a good dollop of lube and you can jump right in! That's definitely not the case, and you should read on so that you're aware of all the implications so you can play safe.
First, what distinguishes anal beads from other types of sex toys? They can be made from different materials, including silicone, glass, stainless steel or PVC. They can be completely flexible with no tensile strength (i.e. floppy) or they can be rigid.
There can be any number of beads on them, and they come in different lengths and widths. The beads will often be of different sizes to make the sensation more pleasurable.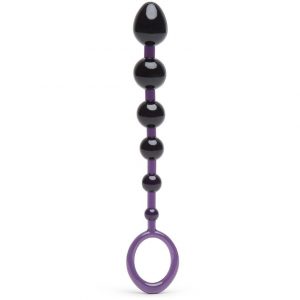 But what's the difference between anal beads and butt plugs? The main difference is that plugs are meant to stay inside you for an extended period of time, while beads are for insertion and removal at varying speeds. 
However, like plugs, anal beads will have a flared ending of some type. This is butt-play best practice so that nothing gets lost up there and you can happily avoid a trip to the doctor (trust us, life is simply too short for non-flared anal beads).
It's already a given that you will need to use lube, but how do you choose between all the different types? The main types are water-based, oil-based and silicone-based. It really does depend on the type of anal beads that you buy, so be sure to check all the product details before purchasing. Some sites offer deals where you can buy the appropriate lube for the product at a discount when you buy it as a set.
If all you have at home is standard lube, that's better than nothing. However, there is also a specific type of anal lube (usually water-based) that you can buy which is thicker and lasts longer than other types. The more you know, the more fun you can have!
If you are a beginner in the world of anal beads, you might be tempted to just buy the first one that you see online and start using it as soon as it arrives. There's nothing preventing you from doing this, but if you'd like to explore it safely and with a view to developing a lifelong pleasure, it's definitely worth figuring out how to use them properly. 
For complete beginners, we recommend starting off smaller and seeing how it feels before putting yourself into a potentially stressful or uncomfortable position (which is why learning to stretch your anus properly is a crucial component of experimenting with any anal activities). 
The great thing about beads is that, unlike plugs or other some other bigger toys, you can start experimenting and get the benefit of the sensation immediately. It's a toy that's built to ease you in at your own pace, so perfect for complete newbies.
Experienced users generally agree that the flexible (floppy) types are the best to start off with because it allows you to take it as slow or as fast as you want. Remember that there's no obligation for you to insert all the beads at once, or even per play session!
It's entirely up to how you're feeling. Whether you're with a partner or experimenting solo, get yourself the right equipment and ease into it at your own pace.
Is there a specific way to clean anal beads?
When it comes to cleaning your sex toys, we all know the basic rules: wash before and after use, don't use between partners without cleaning and invest in a good soap.
But when it comes to anal toys, there are additional points to follow to ensure a safe and healthy experience for you and any partners involved. 
First, make sure that the type of material you buy can be cleaned. Most reputable retailers will sell body-safe toys, but beware any materials that can't be fully sterilised. For example, beads that are connected via nylon or other soft, porous material are a big no-no.
Whether your favourite sex toy material is glass, stainless steel or silicone, you can rest easy knowing that they can be fully sterilised after use and won't cause any nasty side effects if cleaned properly. 
Warm water and soap should be your first port of call when cleaning your beads. Make sure to clean all parts, even if it looks clean – this is really important. If this year has taught us anything, it's that you can't be too careful when it comes to cleaning and sterilisation! Below is our list of top cleaners for anal beads:
Although in a smaller bottle than the other cleaners, this product from Lelo has to be our favourite. Lelo is a brand that's synonymous with quality and this cleaner is perfect for any of your toys. To use it on anal beads as part of your cleaning routine, spray them, leave it on for 5 seconds and rinse carefully. Make sure to store it once it's been fully dried. 
This intimate cleaner is bacteriostatic and is safe for use on your body as well as on the majority of beads and sex toys. It's completely fine to use with rubber and latex materials and because it's alcohol-free, it can be used with toys that aren't alcohol sensitive. 
This household staple is one that you'll never want to be without. It comes in a 100ml or 250ml version so that you can travel easily with it. It's water-based and is perfect for use with all types of anal beads and sex toys. 
Disclaimer: be sure to check out all ingredients in cleaners to ensure that they won't irritate your skin and you can continue to have great sexual experiences!
How to maintain your anal beads
So now let's look at how to maintain your beads and keep them lasting a long time. 
If you've got a good quality set of beads and you develop a good cleaning routine after every use, you're off to a great start. 
Sex toys aren't just regular objects that you can pop into a cupboard and forget about until the occasion calls. Because of their unique properties, they need to be maintained and stored carefully. There is a risk of spreading serious infections or having unpleasant side effects due to toys not being cared for or malfunctioning, so put your health first and understand how you should store them.
Consider the best place for you to store your anal beads. They can come into contact with lots of other contaminants if left in a drawer, and it's likely that when you want to use them, fully cleaning and disinfecting your toy will be the last thing on your mind. 
A soft cloth container would be the ideal place to keep your toys, and these often come as part of the package. It's not a good idea to use a cheap plastic bag because of the potential of petrochemicals transferring to your toy. 
If you've found that your sex toy collection is growing faster than you realised, you might want to look at getting a sex toy storage chest that ensures your toys can be stored safely and discreetly. 
The best product out there is definitely the Joy Boxx Hygienic Sex Toy Storage System.  With two racks for washing and drying, it is free from harmful chemicals, comes with discreet ventilation holes and a USB charging port. It's a serious bit of kit and comes with a lock for enhanced safety and privacy. 
The advantage is that you can store your anal beads along with the rest of your collection and it can be ready for use at a moment's notice – just don't forget the combination to the lock!