Lubricant provides a slickness that can be used before natural lubrication or if you are too dry for comfortable penetration. Lube can be used during masturbation, sex, oral, or even to assist with inserting a sex toy —it should be used whenever necessary to make things feel more pleasurable.
During anal play, you should undoubtedly use a lubricant. The anus does not self-lubricate like the mouth or vagina, and not using any during penetration (toy or otherwise) is uncomfortable and can cause micro-tears that leave you susceptible to infection.
What Type of Lubricant Should You Use? 
Although you might be tempted to apply whatever you have on hand as a lubricant, there are numerous reasons why this is not a wise move.
Baby oil, for example, is not intended for internal use and will not be compatible with your body's normal pH. Coconut oil is a popular natural lubricant that adds a delicious aroma to the bedroom. Still, as with all oil-based lubes, it will degrade condoms and dental dams and is not recommended for use as your primary method of contraception or to prevent the transmission of STIs.
Some lubricants are explicitly designed for sex but are typically water- or silicone-based. The slightly less popular ones that are available to use are oil-based, silicone-based or hybrid lubricants. All are used for various body parts and are great for multiple sex toys.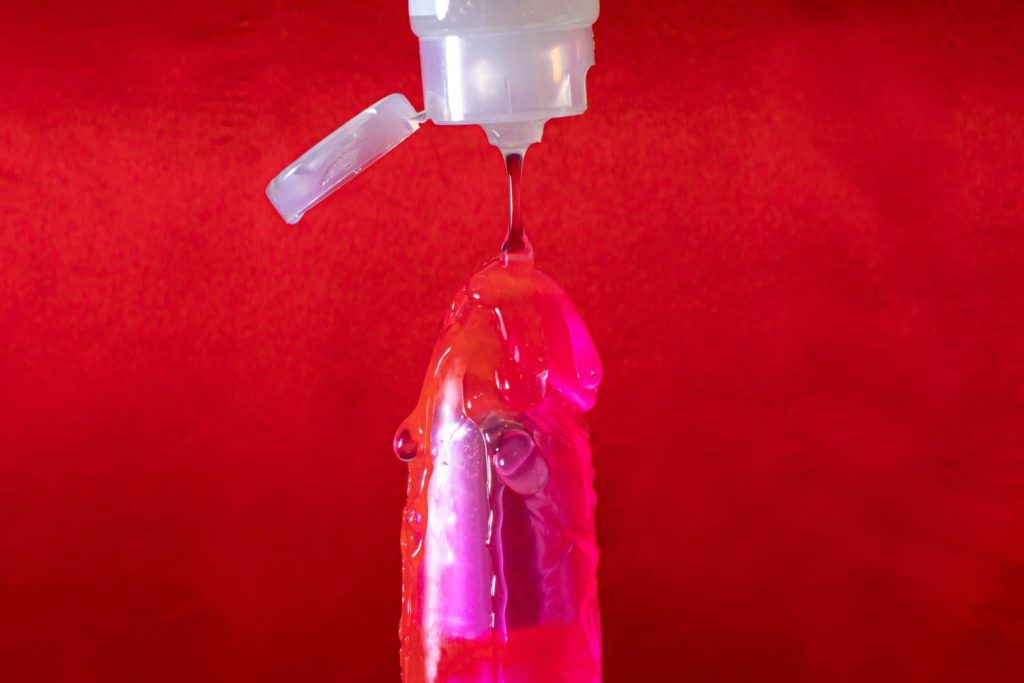 How to Use Lube
Now that you know what types of lubes exist, all that remains is to learn how to apply them. It is important to note that regardless of the lube used, they all work in the same way.
Lube is typically applied straight to the man's penis or the woman's vagina or anus during sexual interactions. When using sex toys, you apply the lube directly to the sex object or your body.
Applying Lube Straight onto Sex Toys 
In this situation, it is best to apply an even layer of lube to the entire surface of the sex toy. This will ensure that you are completely covered for a smooth and pleasant insertion of your sex object into your preferred orifice.
Lathering the lube with your fingers will help warm it up before touching your sensitive private parts or your chosen sex toy. This will help keep things relaxed, lubed and pleasurable for hours!
The amount of Lube to Use on Your Sex Toy 
The amount of lube you use should be proportional to not only the intended sex toy but also the amount of penetration you anticipate.
For instance, if you intend to go all out with a large toy or dildo with highly rapid and deep penetrations, it would be best to apply lube very liberally.
On the other hand, lube should be used sparingly when using a butt plug because it is only required for the initial insertion and end removal.
Always consider the sex device you are using and how you intend to use it before applying lube.
If you found this guide useful, you may also enjoy our related lube buyers guides: