Is the Lovehoney couples advent calendar the perfect Christmas gift?
Okay, so it's probably not the type of thing to gift your grandparents. But is it worth the money and does the calendar live up to the hype? In a word, yes. If you came to this review looking for a quick answer, then there it is. 
You're saving an absolute fortune in comparison to buying these toys separately, and also they really are the types of toys you'd use as a couple, so there's no waste.
Note -This post says written by James, however both myself and my partner have tested this calendar as a couple, so it's a joint post about a very enjoyable time with this calendar… 
If you're looking to buy the calendar without reading the review, click here to feast your eyes on its majesty! 
What sex toys do you get in the calendar? 
I'll admit, I was a little cynical when I first received the calendar, purely because I didn't know how each window would be filled with something unique that would continually leave a smile on my face throughout the month. But, in typical Lovehoney fashion, they've outdone themselves with this one.
Let's take a look at the pleasure-inducing delights hidden behind each calendar window!
Let's jump into the breakdown of what you actually get, how much you're saving, and why getting the couple's calendar is a no-brainer.
Body Massager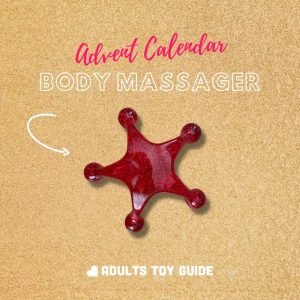 The handheld massager is a really fun little toy that will definitely get you in the mood for exploring deeper into the calendar! With the four points provide firm but not unpleasant pressure, with a smooth handle that allows for ease of rotation. 
It also has a glittery pattern which gives it a Christmas feel…maybe put it on top of your tree if you can't find a star?
G-Spot Dildo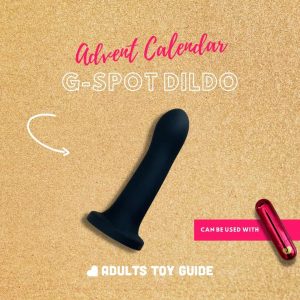 The G-Spot dildo works with the bullet provider that you get with the calendar. The hollow inside houses the bullet vibrator, or you can simply ride the dildo itself as you see fit. The bulbous head provided added pleasure, with the base providing a firm grip to any surface you want to whack it on!
Massage Oil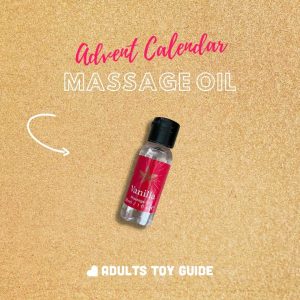 Oh wow does this one smell amazing! The massage oil is Vanilla, which makes a really nice change from some of the lube/massage combos which always seem to be strawberry flavoured for some reason…
You get 30ml or 1floz in the bottle, and you only need to rub. a few drops int your hands to get started.
Faux Feather Pom Pom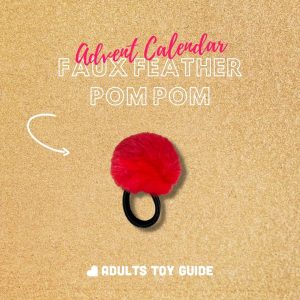 This is a super quirky addition that can really add to the pre-sex tension that often accompanies unpackaging your latest sex toy haul!
The pom pom fits snuggly on your finger, and has an adjustable strap too which allows you to make it fit as tight or as loose as you require. Whether you're into to tickle play or simply want to experience the pleasure of different textures across your skin, it's certainly something to experiment with.
Female Orgasm Barm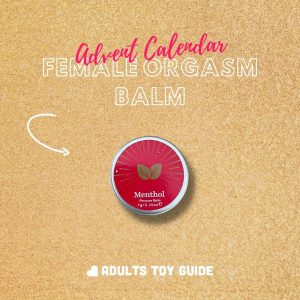 The orgasm balm provides an ever-so tingling sensation that warms and generally makes your sensitive bits even more sensitive. Not exactly a scientific breakdown I know, it's really one of those things that you just have to try. Oh, and it's menthol flavored!
In this tub you get 7g/0.250z of the pleasure balm.
Silicone Rabbit Cock Ring
There are quite a few toys in here that are either intentionally hollow or have a cutaway for the bullet vibrator that you also get in the calendar – this cock ring is one of those toys that you can utilise with the bullet.
Doubling as a cock ring, the 'rabbit' end of a vibrator and an overall larger vibrating toy, this really is one of the best toys for couples that provides dual pleasure. Plus, with the vibrator, you're both experiencing the same intensity from exactly the same toy… what's not to love?
Silicone Anal Beads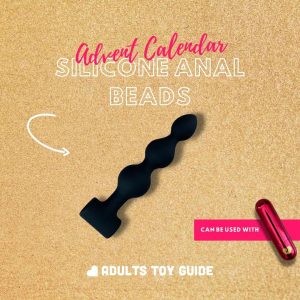 What's better than a beginner-sized anal bead? Yep, that's right, a version that vibrates too! A lot of anal beads tend to expand in size as you get lower-down the toy, but this one is perfect for beginners as it only expands out slightly, and is firm enough for you to push back on and take your time with.
There's a hollow insert in the bottom that willingly accepts the bullet vibrator, and once you've stretched your anus enough to take the beads, you can maximise the intensity with the vibrating-goodness!
Nipple Clamps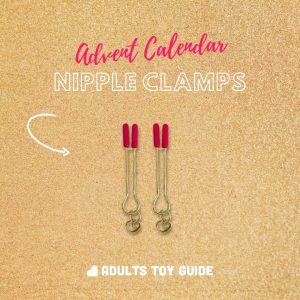 I've always been a fan of
nipple clamps
, but like a lot of BDSM-style toys they can generally be quite intimidating. These clamps can be as light or as tight as you require, and they're great for experimenting as a couple, either testing on your partner or slowly clamping them on your nipples as you continue to explore the calendar.
Satin Wrist Restraints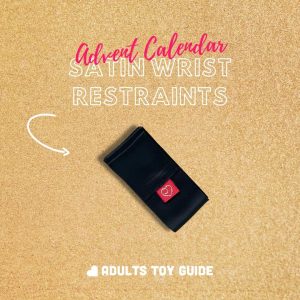 I'm a fan of bondage, cuffs and harnesses, but some of them are far too bulky to store or hide discreetly. Enter these satin wrist restaints! Not only are they super comfy for beginners BDSM fun, but they also fold nicely and can be stored away in a bedroom door or hidden in the bottom of a cupboard.
Male Stroker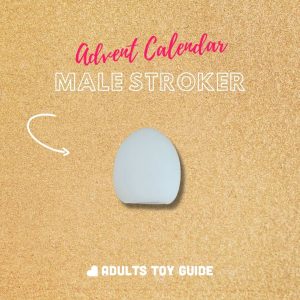 If you're used a fleshlight or a
pocket pussy
before then you might be wondering what the hype about a super miniature version is about. I thought exactly the same too, at least until I'd tried it.
The stroker is shaped in a way that snugly fits the head of a penis, which makes it perfect for edging play and stimulating an incredibly sensitive part of the body. It also comes in handy for maintaining an erection, and it's really easy to clean and hide away.
Mini G-Spot Vibrator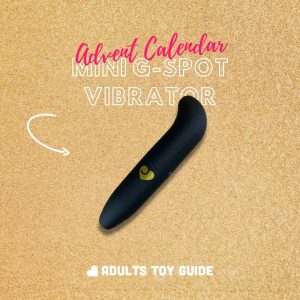 One of the best aspects of the calendar is that it has taken conventional sex toys and scaled them down in size for ease of storage. And what better way to do this than by scaling-down a g-spot vibrator?
There's still more than enough vibrating power in here, the material doesn't make you fumble when it's drenched in lube, and like a lot of these toys you can clean and store it with ease. Do I need to say any more on this one?
Fragranced Candle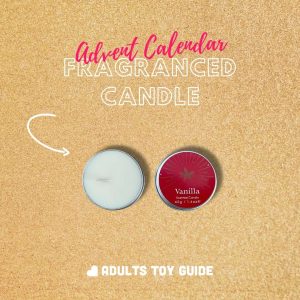 What's a couples Christmas advent calendar without the smell of Christmas? This was such a pleasant surprise to find! It's a tiny vanilla-scented candle that comes in a tin, with a total weight of 40g/1.40z.
You can either use it as part of setting the mood when playing, or even just plonk it in your living room over the festive period (there's no Lovehoney branding so I don't see why not!).
Mini Satin Paddle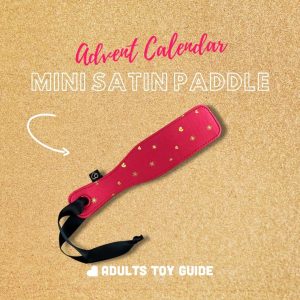 If you've been extra naughty this year then what's better than getting spanked with a festive paddle? The satin body of the paddle is smooth to the touch but still makes a satisfying 'thwack' without causing any intense pain.
The handle has an adjustable strap too, so if you're really into giving out the spankings then you can ensure your paddle doesn't fly off when you're dishing out your Christmas punishments!
Beaded Stroker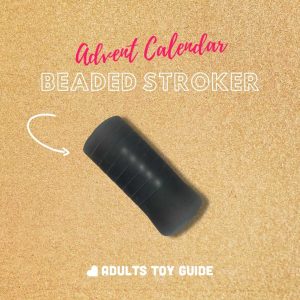 This site is all about actually testing the toys that we buy, and I couldn't wait to test this one out when I opened the calendar window. I was expecting it to be a lot like my fleshlight, based on the weight and texture and how the toy sat in my hand.
I'd say it's arguably a very good alternative to a mini fleshlight, based on the weight and peculiar but incredible textured feel that the beads inside the stroker provide.
Seriously, get this one on your list if you're looking for a fleshlight alternative, or get the calendar and sneak a trial run of this one early!
Dice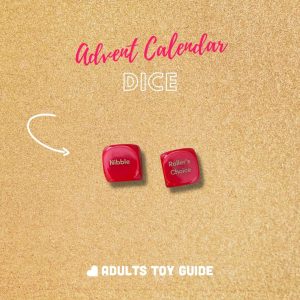 Who doesn't love a bit of novelty with their sex life? The dice has several different acts to choose from, whilst the other decides your approach or intensity. For example, we have 'rollers choice' on one die, and 'Nibble' on another – yep, it's clear to see how much fun you can quickly start having with these!
Silicone Kegel Balls 
Kegel balls make incredible sex toys, and they often don't get the love they deserve. The weight and smooth silicone leads to a really apparent sensation, in that you always know that the toy is inside you.
As you move around, the weight of the balls shift, and with the shift so comes waves of pleasure! If you're in the market for experimenting then this calendar has loads of different toys that are often missed off couples' collections, and these are certainly no exception. Check out my guide to the best ben wa, jiggle and kegel balls if you want to know more about what you can actually do with this type of toy, and how to get the most out of it!
Silicone Butt plug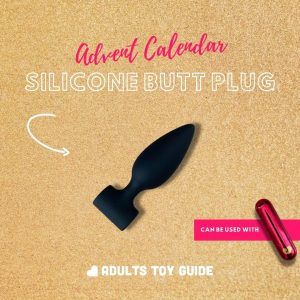 Much like the anal beads, there's often an issue with beginners' butt plugs in that they're often very intimidating if you're inexperienced with stretching your anus or with anal play in general.
Whilst this plug is larger than some of the others in a beginner collection, it's still quite slim yet has the length to offer a challenge. Plus, with the added hollow base for the bullet vibrator insertion, there's plenty of fun to be had once it is inserted too!
Satin Blindfold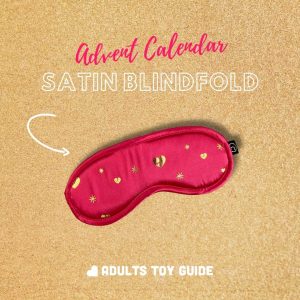 My issue with a lot of BDSM blindfolds is that they tend to be very rigid, and almost intentionally uncomfortable for the wearer.
What's great about this one is its super-soft satin, and you can genuinely use it as an eye mask for sleeping, as much as you can use it for blindfold fun in the bedroom too. Psst… I may have claimed it already for sleeping…
Adjustable Cock Ring
I LOVE a good cock ring. Upon first inspection I was, however, completely lost as to what to do with it. However, with a healthy dose of lube and some playing-around together, we got to the bottom of how to get this bad boy working.
And, it's actually a really good idea. I think a lot of people new to cock rings are put off with how tight they are, so this is a fantastic option to ease your way into wearing one, without the worry of turning the base of your penis blue with an overly tight ring. Unless you're into that, of course!
Bullet Vibrator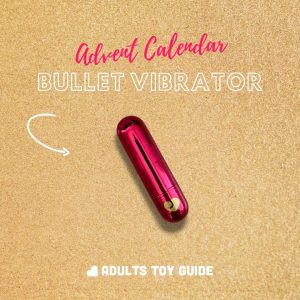 Ah, the trust all-rounder! How can anyone go wrong with a bullet vibrator? This one is surprisingly powerful given its tiny sizing, and really packs a punch in the most pleasurable way.
Plus, you've already got the hollow toys to place the bullet in too in case you don't want to use it alone, or find it too fiddly.
Not pictured but also included in the couple's calendar are: 
Sex position Cards
Jeweled Butt Plug
Build quality 
The calendar itself is quite large, which is definitely expected given the number of toys inside it. The box is cardboard so it's not difficult to dispose of, but it's also sturdy and thick enough that if you want to keep your toys in there for storage (not a bad idea) then you can do that too.
When it comes to the toys, we're not looking at anything out of the blue in terms of the materials used. It's why I always recommend going to reputable sex toy sellers online that have a history of working with non-toxic materials, or anything you'd have to second-guess.
The items also have little Lovehoney branding that hasn't worn off with several vigorous uses when trying as many of these toys as I could, so that's always a plus!
Price
I'll be the first to say that it's expensive, but then again you're getting 24 sex toys in here, worth well over $450/£370.
I think the right question to ask here is do you actually get what you pay for when it comes to the quality of the toys, the novelty aspect and the variation of gifts? Absolutely you do. I'd be a little more wary if each window had the same toy in varying guises, but you can tell that Lovehoney have done their best to vary the toys, with particularly attention to toys for use as a couple.
That's not to say that they can't be used for singular pleasure too (believe me, I was the first to test them as soon as I could!).
Cost savings are huge 
There's a novelty aspect without it being too 'cheap' 
Makes a great gift for your partner, or even as a gift for a couple that you know would love something like this 
Nice variety of toys to experiment with, and they're not too large either (so nothing that will intimidate the beginner) 
Cost will still be deemed too high for some 

If you'd rather have specific types of toys, then you might be better off buying one rather than this assortment – they're more for couples and beginners looking to experiment, not the seasoned pro looking for a kinky challenge 
Overall, I'm super impressed with the couples calendar, and already browsing the other calendars in the collection to add another assortment to the ever-growing sex toy collection in our home. 

The price can seem high at first glance, but have a deep-dive into everything you're getting and you'll quickly see home much you're saving here. It's fun, quirky, and will definitely leave you with a smile throughout the month of December! 
Whether you need a novelty gift or are simply looking to save money on sex toys with a bulk-buy, it's an absolute no-brainer when it comes to getting the Couple's Calendar.
Not only is it fun, but it gives such a wide variety of toys that you'll literally have a smile on your face until next Christmas.
If you liked the look of this Calendar, then make sure you check out the others in the Lovehoney range: